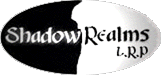 Welcome to the Shadow Realms website. Feel free to have a wander around and check out all the cool stuff we've got going on.
But first let us tell you who we are.

Shadow Realms is a well respected Live Roleplay Club now entering its fifteenth year. We run full day adventures every month in Exmouth, Devon, England with a fully costumed, masked and armed monster crew and a well developed campaign. Our rules are simple yet flexible. Many well respected members of the LRP community roleplay with us and they find our club enjoyable and of a high standard. We hope that you will as well.
2007 Update
The last update to the site was in 2003 and really that's too long!
Firstly, we are still running! This is just a quick update as we'll soon be moving to a brand new site www.shadowrealms.co.uk
Expect to find the following on the new site: Rules, History, New Graveyard, Updated contacts, Updated Links, New Forums and much much more.
Plan is to get this up and running by the end of September 2007 and I promise that I'll try to keep the site updated.
Ben Willis
---
News - 10/08/07 This update to the front page!
All the contact details can be found in Ranger Station for event information & contact addresses.
Or feel free to browse through our regular sections such as...

ęShadow Realms LRP 2000